In order to better prepare for the aftermath of a major or catastrophic disaster, particularly natural disasters,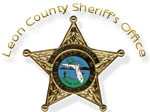 Leon County in conjunction with the Leon County Sheriff's Department is developing a Post-Disaster Redevelopment Plan (PDRP). Over the next year, county and city planning and emergency management entities as well as a number of community Stakeholders will be developing a countywide PDRP. The PDRP will be coordinated with the Tallahassee-Leon County Comprehensive Plan, the Leon County Comprehensive Emergency Management Plan, and the Tallahassee-Leon County Local Mitigation Strategy as well as other relevant planning documents. The Apalachee Regional Planning Council working as the primary consultant for the County will be conducting outreach and working with various community stakeholders to develop the plan.

Development of a PDRP will provide a framework for intermediate and long-term recovery and mitigation after a natural disaster. The PDRP can help reduce future community vulnerability to disasters and allow for a more successful community recovery from disasters. The PDRP will identify operational strategies, roles and responsibilities and policies for implementing the plan so that decisions about long-term recovery and redevelopment of the community after a disaster are guided and have context. The plan will emphasize opportunities for hazard mitigation to prevent damage when disasters happen and make recommendations for community improvements that support and are consistent with the local Comprehensive Emergency Management Plan, the local comprehensive plan and the Local Mitigation Strategy; and which include participation opportunities for citizens and stakeholders. Recovery topics will include sustainable land use, housing repair and reconstruction, business resumption and economic redevelopment, infrastructure restoration, financial considerations, and short-term recovery actions that affect long-term redevelopment as well as other long-term recovery issues identified by the community. Details about PDRP development and process can be found at the link.



Florida Post
- Disaster Redevelopment Planning (PDRP)

The PDRP will consist of the following elements:

Vulnerability Analysis - A synopsis of existing data that identifies potential vulnerabilities in infrastructure, housing, economy and social sectors before and after disasters

Local Plan Integration - Identification of issues across existing plans such as the local mitigation strategy and recommendations for integration of issues and objectives

Institutional Capacity Assessment - assessment of community's resources available to implement the PDRP before and after a disaster; potential sources to cover gaps

Financing Strategy - Identify all possible funding sources for recovery after a disaster

Implementation Plan - Identification of implementation actions and a decision-making organizational chart

Action Plan - List of post disaster goals/objectives and prioritized list of issues with descriptions

PDRP:
Commmission Presentation:
Public Workshop February 21st: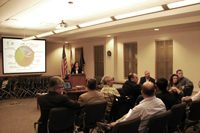 Recent Events:
The Apalachee Regional Planning Council and the Tallahassee Leon County Planning Department hosted a Kick-Off meeting for the project on June 28th and a series of Focus Group meetings. Details of the events are below.
WEATHERFEST AND HURRICANE PREPAREDNESS DAY - May 3rd:
Event sponsored by the National Weather Service as well as a number of state and local entities in anticipation of hurricane season was held at the Tallahassee Airport. Along with a number of family friendly and educational activities, a PDRP Booth at this event provided an additional opportunity to get information and provide input on the drafted PDRP.
Focus Group Meeting, April 24, 2012:
To review Capacity Analysis and Outreach and Coordination Chapters in anticipation of finalization of the plan
Focus Group Meeting, March 27, 2012:
Focus Group Meeting, February 21, 2012:
Housing Strategy Workgroup Meeting, February 1, 2012:
Focus Group Meeting, January 17, 2012:
Housing Strategy Workgroup Meeting, January 11, 2012:
Housing Strategy Workgroup Meeting, November 30, 2011:
Housing Strategy Workgroup, November 9, 2011:
Fourth Focus Group Meeting, November 8, 2011:
Housing Strategy Workgroup, October 20, 2011:
Third Focus Group Meeting October 4, 2011:
Second Focus Group Meeting August 16, 2011:
First Focus Group Meeting July 19, 2011:
Kick-Off Meeting June 28, 2011:
Contact Information:
During this process there will be many opportunities for the public to participate and provide input. If you would like to participate as a Stakeholder, ask a question or make a comment on the process, or have a comment regarding PDRP development, please email dimbler@thearpc.com or call Denise Imbler at 850/488-6211 X101.

For questions regarding the upcoming events or to be added to e-mail distribution please contact susan.poplin@talgov.com or call Tallahassee-Leon County Planning Department, Susan Poplin, AICP, Planner at 850/891-6400.